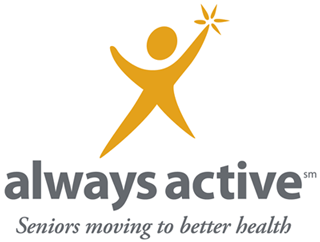 Always ActiveSM Program
30th Street Senior Center is the lead agency for health promotion programs for older adults in San Francisco. We offer the following programs citywide.
The Always Active wellness program offers seniors the chance to participate in exercise classes and receive a wellness plan designed by participants, their doctors and a wellness coordinator.
This program offers a variety of physical activities for seniors that help them maintain or improve their current health and wellness while allowing them to work at their own pace.
The program will be modified accordingly based on participant readiness and/or mobility. For more information about the Always Active Program, please visit www.alwaysactive.org.
For the Always Active video, please click here.
Classes & Programs
General Exercise and Fitness
For a complete schedule of Strength and Flexibility classes, please visit alwaysactive.org. The programs are partially funded through the city and county of San Francisco.
Basic strength and flexibility classes
60 minutes of general conditioning in a fun social setting
Classes offered weekly throughout San Francisco
All exercise classes are led by trained professionals who have been certified by national fitness organizations
Partner Organizations: University of San Francisco, San Francisco Senior Centers Inc.
Offered in English, Spanish, and Cantonese.
Wellness Trainer Certification
Open to all qualified staff/volunteers from city agencies working with older adults
Intended to develop knowledge and skills for sustainable exercise programming
For more information about classes or trainer certification, contact regional coordinators:
Sue Mittelman at (415) 923-4482 or Luz Villanueva at (415) 550-2265